Persian Pure Bulk Saffron
PERSA is a premium brand that exports High-quality Persian saffron all over the world. In ancient Persia, saffron was cultivated at Derbena and Isfahan in the 10th century BC. Saffron and Iran are uniquely linked together. Iran harvests about 90% of the world's production of saffron. Iranian saffron is a natural spice also called Red Gold. Our farmers should collect 170,000 saffron flowers to produce one kilogram of the dried bunch saffron; They have to use 230,000 saffron flowers for producing one kilogram of the dried Sargol saffron. We obtained all the necessary ISO certificates, standards, and licenses to provide and export the products. Persa Trading achieves ISO 22000 (Food Safety Management System), HACCP (Hazard Analysis Critical Control Points), ISO 9001, Halal Certificate, and GMP (Good Manufacturing Practice). Our products are used in the Food and Beverage Industry for many uses like flavorings, natural color, cookies, making vegan ice cream gelato, drinks, and many others; in the Medicinal & Pharmaceuticals, Cosmetics industry like skincare products, skin masks, perfumes, detergents.
On Time Delivery
Wherever you are in the world, we do our best to deliver products to you according to the agreed time.
Product Warranty
All our products is of the highest quality and you will find out exactly by ordering products from us.
Best Quality
Our main work is to directly deal with the farmers when gathering products from the fields thus we can ensure the best quality and price.
Iranian

saffron

cut

types
The Saffron flower has a style that is the female part of the flower that is white in the bottom and changes to red in the top. The style becomes trifurcation like a fork. The most color, taste, and aroma strength are on the top red parts. People in Iran and Spain cut the saffron styles from different points to categorize them in different grades.
What

is

the

difference

between

saffron

types?
A long saffron thread includes white, yellow, and red parts. The white part is called root, Konj, cream, or white. We cut saffron in different points to produce various types of saffron. Our workers cut saffron from the yellow part to produce Pushal saffron. It's also written Poushal, Poushali, or Pushali saffron. Pushal saffron includes all red and a little yellow part of the saffron style; so, it has less color strength than Sargol and Negin saffron cuts. Pushal saffron is also called sierra saffron in Spain. Our workers cut saffron from the trifurcation point of saffron style to produce Negin saffron. It gives us three-part red parts of saffron style. We categorize Negin grade in two main segments; Super Negin saffron includes bigger, thicker, longer, and higher color strength saffron styles rather than normal Negin saffron. The workers sift saffron to produce Sargol saffron. Sargol saffron means the top of the saffron style. It's also called Coupe saffron in Spain.
Testing

the

Quality

of

Saffron
Assessing Color, Flavor, and Aroma
Discover how Persa Trading guarantees the fine of saffron via rigorous laboratory checking out. Join our experts as they measure the strength of critical compounds—Crocin for coloration, Pico Crocin for taste, and Safranal for aroma—using advanced spectrophotometer technology. From grinding the saffron to analyzing precise measurements, witness the meticulous manner that guarantees the authenticity and purity of our saffron merchandise. At Persa Trading, we are dedicated to handing over the best satisfaction and ensuring the delight and well-being of our clients.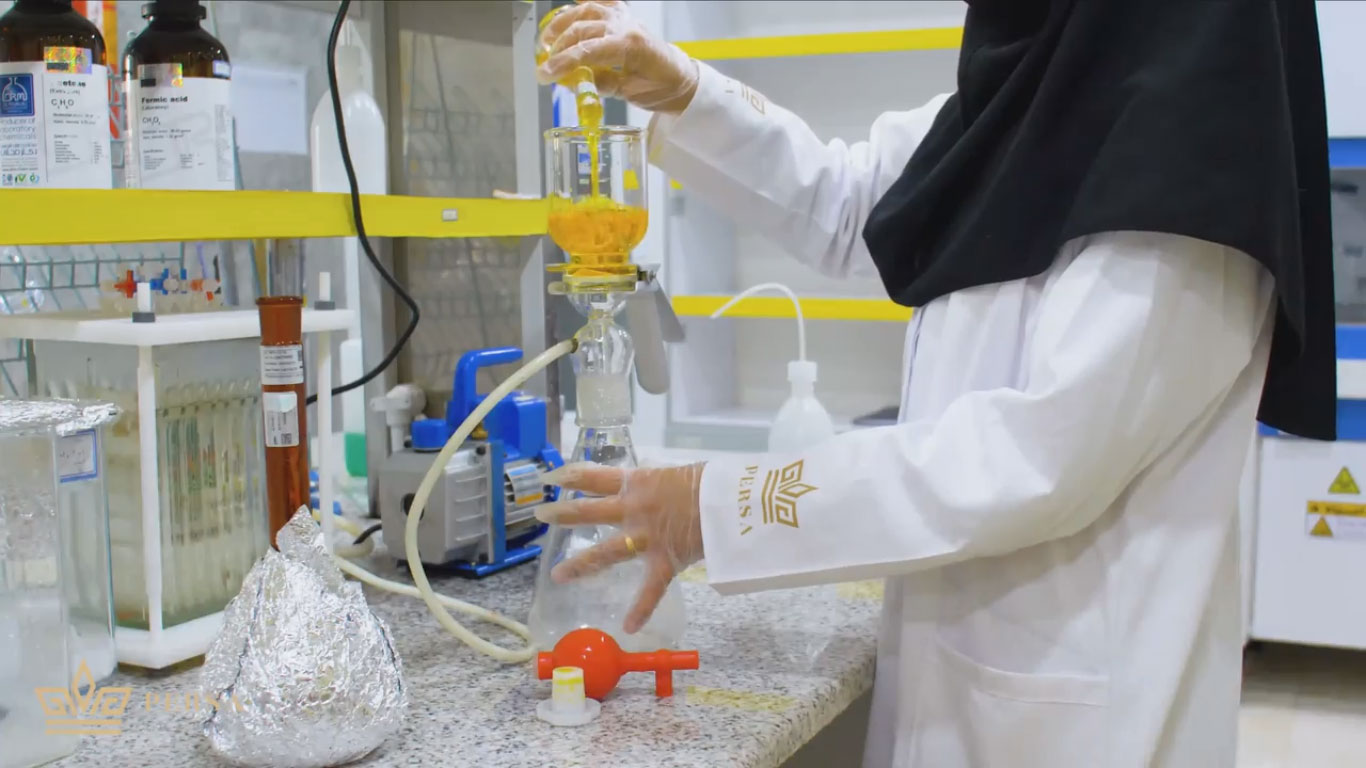 What

is

the

price

of

each

saffron

type?
The price of saffron is in order of their grade. The most expensive type of saffron is Negin saffron, especially Super Negin grade. Then, Sargol saffron because it includes all red parts of saffron. After that, Pushal saffron, and the cheapest type of saffron is bunch type. When workers separate saffron styles from flowers, they put the saffron styles on top of each other and wrap them to produce Bunch saffron.
Which

factors

are

affecting

the

saffron

price?
1. Order amount: Saffron transport through air freights, and the exporter has some fixed cost to do customs formalities. So, most significant exporters are interested in working with big buyers.
2. Delivery time: Importing saffron before traditional or religious celebrations in some countries affects saffron availability. One of the essential factors in pricing saffron depends on the availability at certain times like the month of Ramadan in Islamic countries.
3. Quality: As we wrote upper, the saffron cut is essential in the pricing.
Transportation:
Saffron is valuable enough to be transported by air freight. PERSA trading put both packages or bulk saffron orders in safe and tight mother cartons to keep saffron safe and dry. Fortunately, air freight is a fast and secure method to get your order fast. We also can transport the big orders through sea and land too.
Shelf life: Two year after the production date.
Keeping condition: Please keep it in a cool and dry place away from sunlight. The best option is to keep the container in an indoor warehouse that is not exposed to sunlight directly.
Commodity: Persian Saffron
Class: Negin grades – Sargol – Pushal – Bunch
Type: Natural
Grade: Grade 1
Minimum Order: 5 kg
Packing: Customer's Request
Supply Ability: 500 Kg per Month
Sample: Available to forward
Term Of Delivery: EXW-FSA-FAS-FOB-CFR-CIF-CPT-CIP
Payment Term: TT- 50 % against PI, 50 % against Draft BL
Documents: HC, CO, BL, Packing List, Invoice & etc.
Delivery Time: 5 – 15 Days
Inspection: Possible
Fill the form, please. Our sales team will reach out as soon as possible.